Seminars & Conferences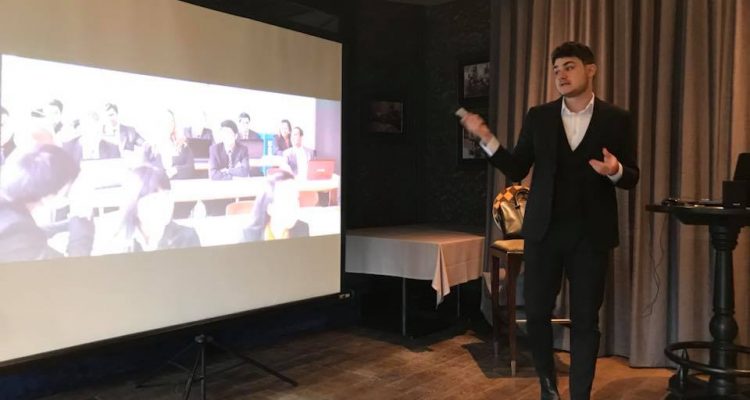 Welcome to HOTEL SCHOOL Scientific Conferences & Student Seminars
To aid in the interaction between students, academic staff, researchers, hospitality industry practitioners, government and tourism bodies representatives and all the other stakeholders, HOTEL SCHOOL has been organizing scientific conferences and student seminars on an annual basis.
Tourism and hospitality sector in the national and global economy contributes a significant share of the gross domestic product of many countries and brings more profit organizations and taxes in the budgets of various levels. Promoting scientific research within the hospitality industry will strengthen the industry as a whole and will help to forge a mutually benefiting relationship between academia and practitioners, thus strengthening industry position and impact on national economy.
---
2nd International Scientific Conference "SUSTAINABILITY IN THE HOSPITALITY INDUSTRY"- 14.05.2019
2nd International Conference "SUSTAINABILITY IN THE HOSPITALITY INDUSTRY " took place on May 14, 2019.
Background The importance of sustainability and running a sustainable business in the hospitality industry cannot be underestimated as it includes the environmental, economic and social aspects. Sustainability is one of the most important issues currently facing the world of hospitality and hoteliers, and the future is bright for those businesses that embrace and nurture it!
Registration & practical information
Venue:
PART I – Pullman Riga Old Town, Jekaba street 24, Riga
PART II – HOTEL SCHOOL Hotel Management College, Smilsu street 3, Riga
Registration: Participants are asked to confirm participation till May 13th, 2019 by email to Vivita Ponciusa: vivita@hotelschool.lv and to indicate selected workshop. Working language: English
Photographing and filming will take place during the conference. The materials will be used for publicity. For more information, please contact Vivita Ponciusa, e-mail: vivita@hotelschool.lv, phone: +371 29727938
---
1st International Scientific Conference "Future of Sustainable Hospitality'18 " – 15.05.2018
Annual Scientific Conference brought together scientists and professionals from Latvia, Germany, USA, India and France. Following international guest speakers were sharing their knowledge and international experience with an audience:
John Lohr (USA) with his speech "Development of the Human Resource in the hospitality" shared his knowledge about Human Resource in Hospitality industry as well as introduced Worlds Leading Hospitality Network named Hosco to the audience. John's speech as usual was inspiring and attractive, as well as valuable and extremely interesting for both professionals and students.
Sylvian Boussard (France) leaded a research through Hospitality Industry in France named "Overview of the hospitality industry sustainable practices in France" . Audience had a chance not only to get inspired by interesting statistic data, but also to have a look into practices of France to sustainable business performance.
Daniel Kleber with his speech (Germany) "Creativity – the Art of thinking" had very attractive and valuable presentation, what inspired audience to "think out of the box" for better performance.
Kartik Desai (India) had attractive speech named "Designing Hitech Global Marketing in Hospitality Services". Many marketing novelties were highlighted in his speech.
Deniss Valisjevs had inspiring speech named "Opportunities for developing Ecotourism in Latvia". Deniss speech made all the audience think about importance of eco-friendly tourism practices in Latvia and all over the world.
Olgas Zvereva's presentation "International R&D Collaboration in the EU Erasmus+ Project KA2 on Adult Education for Sustainable Development and Global Citizenship "was an interesting speech about Erasmus+ project College participates in.
Alla Sokolova had an inspiring speech about Global Wellness Day and importance of treating our soul and mind Well.
We would like to thank our Special guests from Hotel Industry:
Angela Blate, General Manager of Gallery Park Hotel
Ināra Geiba, HR Manager, Park Inn by Radisson
Alisa Ratkēviča, General Manager, Hanza Hotel
Elīna Šterna, Marketing Department, Islande Hotel
Thank you for inspiring our audience! All your presentations had one thing in common – you love your hotels, you love what you do and it inspires us and our students! Thank you for your "Hospitality Bug" in you!
We would like to thank all speakers and our dearest students for participation and making this event special and extremely valuable!
---
Proceedings of the 1st Annual Student International Seminar "Hospitality Industry: Opportunities, Challenges and Perspectives'17" ​
| | |
| --- | --- |
| | Our students had brilliant possibility to participate at International Seminar at Hotel Metropole by Semarah with their researches prepared for Proceedings. This opportunity gave students chance to present their researches at one stage with General Managers of the Hotels and International Guest from different European countries. ​ We are pleased to announce – Proceedings of Student International Seminar "Hospitality Industry: Opportunities, Challenges and Perspectives'18" were published in November, 2017. Electronic version of the Proceedings is attached below. |