Partners & Accreditation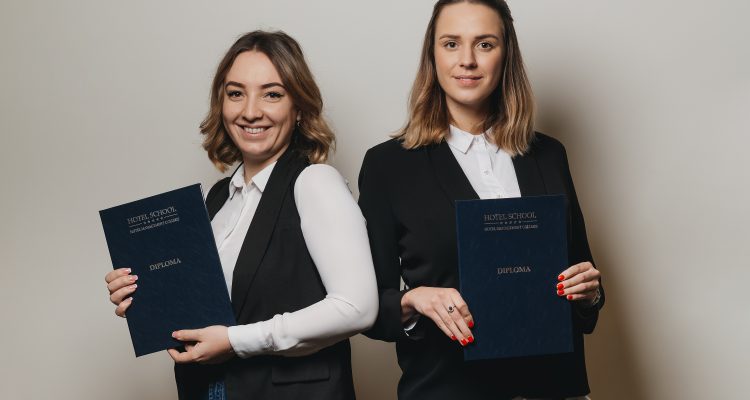 HOTEL SCHOOL College Partnering Institutions
Thanks to a wide network of partners, HOTEL SCHOOL students can count on getting high-quality education during their studies, while our graduates can count on unlimited career and personal growth prospects after they graduate. HOTEL SCHOOL partnership network is steadily expanding.
Main academic partners
Pearson Ltd is the world's learning company with more than 22,500 employees operating in 70 countries, providing content, assessment and digital services to learners, educational institutions, employers, governments and other partners globally. See more – https://www.pearson.com/

HOTEL SCHOOL implements BTEC education programmes developed by Pearson.

Moodle is an acronym for modular object-oriented dynamic learning environment. Moodle is a learning platform designed to provide educators, administrators and learners with a single robust, secure and integrated system to create personalised learning environments. HOTEL SCHOOL LSM is based on Moodle platform.
Emerald Publishing Limited is a scholarly publisher of academic journals and books in the fields of management, business, education, library studies, health care, and engineering. See more at emeraldinsight.com HOTEL SCHOOL is subscribed to Emerald Insight databases for electronic information resources for research purposes.

OXSICO Similarity Checker powers the study and the research processes by offering the largest comparative database of scholarly articles among current providers of plagiarism checking services. See more at https://www.oxsico.com/

HOTEL SCHOOL uses EXSICO to to check the originality, ethics and academic integrity of student papers.

The American Hotel & Lodging Educational Institute (AHLEI) was founded in 1953 to provide working hospitality professionals with education and training. AHLEI continues to meet the needs of the industry with a variety of hospitality solutions, including online learning, professional certification, and resources for high schools, colleges, and workforce agencies. – See more at AHLEI

HOTEL SCHOOL buys AHLEI specialised literature and organizes training certified by AHLEI.

BHMS – Business and Hotel Management School, is located in Lucerne, Switzerland.  School offers various programmes – two-year higher diploma, bachelor's programme and master's programme in hospitality, business administration and culinary arts. – See more at BHMS

HOTEL SCHOOL graduates can continue their education by admitting to the final year of BHMS bachelor's program.

The University of Derby is a public university in the city of Derby, England. The university provides over 300 study programmes at undergraduate level. Undergraduate programmes as well as short courses, foundation degrees and postgraduate degrees cover most academic disciplines and sub-disciplines. See more at derby.ac.uk

HOTEL SCHOOL graduates can continue their education by admitting to the final year of University of Derby bachelor's program.
Information on licenses and accreditation of the educational institution and programs
Name of educational institution:
"HOTEL SCHOOL" Hotel Management College
Educational institution registration number in the Register of Educational Institutions of the Republic of Latvia, accreditation data:
3347802926, accredited higher education institution from 1.10.2020. (accreditation page no. 10)
Legal and actual address of the educational institution:
Smilsu street 3, Riga, Latvia
Study programs implemented by the educational institution, their licensing and accreditation data:
1.    First level professional higher education study program "HOSPITALITY SERVICE ORGANIZATION", license no.041030-1, Accreditation sheet no. 73, accredited until 30/06/2024
Person authorized by the educational institution:
Head of College Julija Pasnaka, in accordance with the Board Order no. 1-10/12 from 23/12/2020
The data of the institution published in the State Education Information System: https://viis.lv
Name of educational institution:
"HOTEL SCHOOL" Hotel Management College
Educational institution registration number in the Pearson Center Register, accreditation details:
BTEC Approved Centre No: 90478, in force
Legal and actual address of the educational institution:
Smilsu street 3, Riga, Latvia
Study programs implemented by the educational institution, their licensing and accreditation data:

Pearson BTEC Level 4/5 Higher National Certificate/Diploma in HOSPITALITY MANAGEMENT, code 603/2278/0 (Ofqual Regulated Qualifications Framework (RQF) Qualification), accredited until 31/08/2026;
Pearson BTEC Level 4/5 Higher National Certificate/Diploma in CULINARY ARTS MANAGEMENT, code 603/2278/0 (Ofqual Regulated Qualifications Framework (RQF) Qualification), accredited until 31/08/2026;
Pearson BTEC Level 4/5 Higher National Certificate/Diploma in BUSINESS, code 601/8365/2 (Ofqual Regulated Qualifications Framework (RQF) Qualification), accredited until 31/08/2024;
Pearson BTEC Level 3 National Diploma in HOSPITALITY, code 500/8196/2 (National Qualifications Framework (QCF) Qualification), accredited until 31/08/2023.

Person authorized by the educational institution:
Head of College Julija Pasnaka, in accordance with the Board Order no. 1-10/12 from 23/12/2020
The data of the institution published on Pearson's website:  https://qualifications.pearson.com/en/support/support-topics/understanding-our-qualifications/find-a-pearson-centre.html?Country=Latvia&City=Riga&QualificationFamily=BTEC
Download Pdf document