Library & Data Bases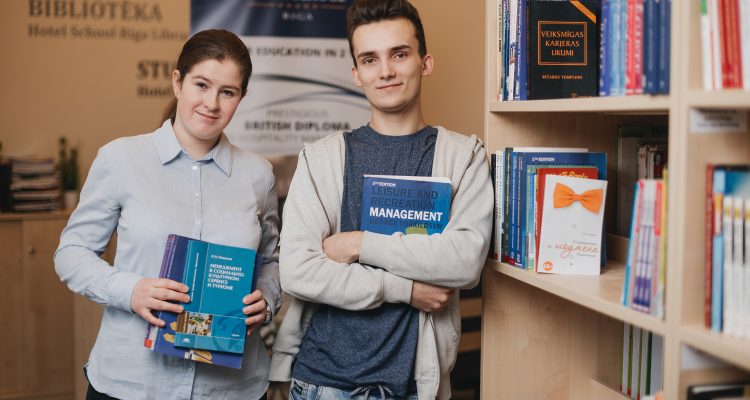 HOTEL SCHOOL Library, Databases, E-resources
HOTEL SCHOOL Hotel Management College library offers to students one of the largest professional hospitality and hotel management literature collections in Riga – from publishers such as Pearson, The American Hotel & Lodging Educational Institute (AHLEI), The Cornell School of Hotel Administration and others; as well as a wide range of services, including information search in electronic resources and the choice of e-catalog books. HOTEL SCHOOL library's services are aimed at helping college students to achieve high-quality academic and professional knowledge, to support research job opportunities in hospitality and hotel management fields, organizing and improving library services, open access to information sources and databases, and introduction of modern information technologies.
Library working hours:
Mon – Fri: 9:00 – 17:00
Sat – Sun: – Closed
Contacts: 3 Smilšu Street, 4th floor, Rīga, LV-1050 Tel.: 67213037, 26634824 Email: library@hotelschool.lv
---
Library e-catalog and online databases
College library offers subscribed databases that are providing materials in the hospitality field; part of the available information is of multidisciplinary nature and can be used in various fields of research. Databases are available for all HOTEL SCHOOL  students free of charge. Advice on the use of electronic resources can be provided by contacting the library coordinator​
HOTEL SCHOOL library catalog

HOTEL SCHOOL library electronic catalog within the following fields – Guests service, Hospitality Industry, Sales and Marketing, Rooms division, Food and beverage operations, Finance in the hospitality industry, Hotel management, Health and safety, Human resource management, Wine cellar and bar operations, Travel and tourism, Legislation, Languages, SPA specifics.
Access online catalog
Emerald Database
Available hospitality industry specific journals: International Journal of Contemporary Hospitality Management, International Journal of Culture, Tourism and Hospitality Research International Journal of Event and Festival Management, International Journal of Tourism Cities, Journal of Hospitality and Tourism Technology Tourism Review, Worldwide Hospitality and Tourism Themes and others.
Access database – emeraldinsight.com

e-LANBOOK database

E-books database in Russian language, which offers training and educational materials from the leading Russian publishers.

Subject: services, hospitality and tourism, economics and management, sales and marketing, management capacity, food and beverage, finance, health and safety, human resources management, and others. Users also have access to a multidisciplinary materials.

Database access – www.e.lanbook.com 
---
Open Access e-Resources
Open Access section contains information on a variety of electronic resources – e-journals and e-books, encyclopedias and dictionaries, institutional repositories database, as well as search engines and other scientific information resources.
| | |
| --- | --- |
| | Internet dictionary system, which includes the following electronic dictionaries: English-Russian and Russian-English dictionary; German-Russian and Russian-German dictionary; Spanish-Russian and Russian-Spanish dictionary; Latvian-Russian and Russian-Latvian Dictionary and others |
| | World's best free online machine translation service for Baltic languages. Instantly translate texts, documents, and websites in Latvian, Lithuanian, Estonian and others. |
| | Central Statistical Bureau provides domestic and foreign data users with timely, exact, complete, comprehensible, and internationally comparable statistical information on economical, demographic, social, and environmental phenomena and processes of Latvia. |
| | Lursoft offers a wide range of databases about all enterprises registered in Latvia, companies, business entities, nongovernmental organisations and other legal persons that are registered in Latvia. |
| | Encyclopedia Britannica is a general knowledge English-language encyclopedia. It is written by about 100 full-time editors and more than 4,000 contributors, who have included 110 Nobel Prize winners and five American presidents. |
| | Taylor & Francis Group is an international company originating in the United Kingdom that publishes books and academic journals. |
| | For more than 150 years, in print and now online, Merriam-Webster has been leading and most-trusted provider of language information. |
| | The Baltic Journal of Economics is a peer-reviewed scientific journal in economics. It is published jointly by Stockholm School of Economics in Riga (SSE Riga). |
| | Academic Journals is a broad-based publisher of peer-reviewed open access journals. Academic Journals currently publishes 111 open access journals covering broad fields. |
| | A leading ePublishing platform, HighWire Press facilitates the digital dissemination of more than 3000 journals, books, reference works, and proceedings. |
| | DOAJ is a community-curated online directory that indexes and provides access to high quality, open access, peer-reviewed journals. |
| | SAGE Open is an open access publication from SAGE. It publishes peer-reviewed, original research and review articles in an interactive, open access format. |
| | Bookboon.com was established in Denmark in 1988, under the name Ventus, and has always focused on publishing educational material for students and business professionals. |
| | OAPEN is dedicated to open access, peer-reviewed books. OAPEN operates two platformsv – the OAPEN Library and the Directory of Open Access Books. |
| | Google Books is a service from Google Inc. that searches the full text of books and magazines that Google has scanned, converted to text using optical character recognition (OCR), and stored in its digital database |
| | Wikibooks is a wiki-based Wikimedia project hosted by the Wikimedia Foundation for the creation of free content textbooks and annotated texts that anyone can edit. |
| | The primary aim of DOAB is to increase discoverability of Open Access books. Academic publishers are invited to provide metadata of their Open Access books to DOAB |
| | Knowledge Unlatched vision is a sustainable market where scholarly books and journals are freely accessible for each and every reader around the world. |
| | The OpenAIRE project, in the vanguard of the open access and open data movements in Europe was commissioned by the EC to support their nascent Open Data policy by providing a catch-all repository for EC funded research. |
| | Apollo (previously DSpace@Cambridge) is the University of Cambridge's institutional repository, established in 2002 as a service for storing and providing access to the outputs of Cambridge's research activity. |
| | Open Access scientific production of the European Research Area, providing cross-links from publications to data and funding schemes. This large-scale project brings together 41 pan-European partners, including three cross-disciplinary research communities. |
| | OpenDOAR provides a quality-assured listing of open access repositories around the world. OpenDOAR staff harvest and assign metadata to allow categorisation and analysis to assist the wider use and exploitation of repositories. |
| | OpenThesis.org is a searchable thesis & dissertation database which helps to increase the availability and utility of these important documents. |
---
 Free public web search engines for academic publications
Google Scholar is a freely accessible web search engine that indexes the full text or metadata of scholarly literature across an array of publishing formats and disciplines.
EconBiz is a search portal for economics and business studies. It offers: A literature search across important German and international databases; Access to full texts on the internet, a calendar of events for scholarly conferences and summer schools the reference service Research Guide EconDesk which answers your questions about the search for literature and statistical data.
Microsoft Academic is a free public search engine for academic papers and literature, developed by Microsoft Research for the purpose of algorithms research in object-level vertical search, data mining, entity linking, and data visualization.
---
Have any requests? Please fill in the form below
Error, please fill in the form