Assistant Cook (EQF 3)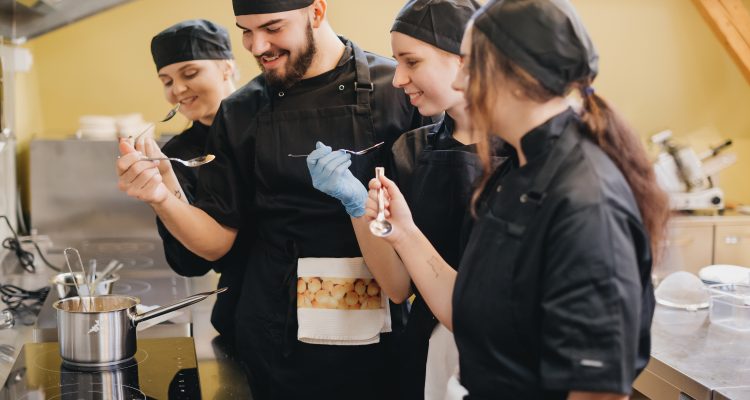 Cook like a chef! Would you like to acquire the most modern culinary skills right after completion of general basic education? Then we have something to offer! Learn the latest cooking techniques, discover amazing flavours and work with the chefs of 5 * hotel restaurants. All of it at HOTEL SCHOOL Hotel Management College!
---
Content of the programme
Throughout the programme you will:
learn the newest food preparation methods
master the work organization of a catering company
will learn how to use specialized equipment
gain comprehensive understanding of nutrition, hygiene, and food safety issues.
---
---
Study process and internship
The duration of the programme is 10 months or 2 semesters, during which 640 contact hours are planned. Training includes theoretical classes and seminars, as well workshops in HOTEL SCHOOL's culinary laboratory and restaurant. Classes are taught by experienced 5 * hotel restaurant managers and chefs.
To all students of the programme, we provide opportunities to have internships in 5* hotel restaurants in the world's culinary mecca – Rome, Italy! With financial support from Erasmus+, we will cover travel, accommodation, and insurance costs!
A final exam must be taken at the end of the programme.
---
Tuition fees
The programme tuition fee is EUR 1,500 per year or EUR 160 per month for EU citizens. The programme tuition fee for non-EU citizens is EUR 4,000 per year.
Learn more about the Tuition Fees.
---
Admission requirements
Admission to the programme is possible after obtaining general basic education. Applicants are required to know the language in which the programme is being delivered. HOTEL SCHOOL may arrange a language test face-to-face or online.
Read the full admission rules for continuing education programmes.
---
Career and progression opportunities for graduates of the programme
The acquired qualification allows to work in local and foreign catering companies. The subjects learned during the programme are formally recognized when enrolling to higher education programmes at HOTEL SCHOOL.
Learn more about the study opportunities we offer!
---