Why HOTEL SCHOOL?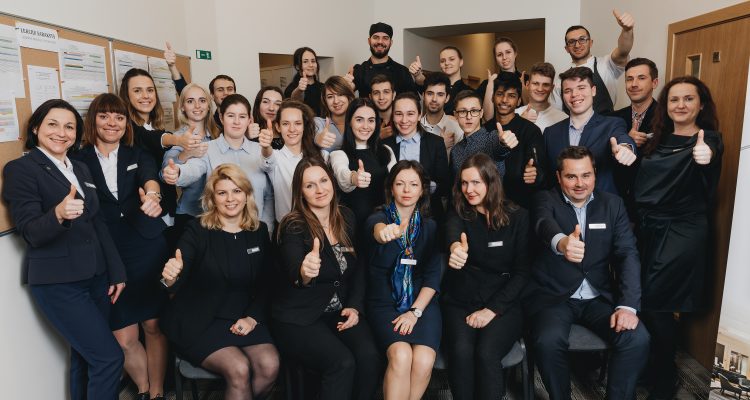 International Higher Education in 2 Years!
HOTEL SCHOOL Hotel Management College is a higher educational institution that is offering international level education in the hospitality and business management. College programs are accredited in Latvia and the United Kingdom, allowing you to get two educational documents while paying only for one! The studies include a substantial "on-the-job" learning part – we provide an opportunity for each student to gain professional work experience in the top-level hotels throughout the world.
We are proud that 68% of our graduates continue with their careers within the hospitality domain applying knowledge that they've learned with us, 41% of our students are progressing further with their studies – 18% of them in the universities abroad, as HOTEL SCHOOL RIGA college's diploma is internationally recognized and highly appreciated by the industry professionals!
HOTEL SCHOOL is the only certified BTEC international learning center in the Baltic region (Center number: 90478) that specializes at providing higher education and qualification programs for hospitality management and granting international British diploma. – See more at PROGRAMS

.
The quality of teaching at HOTEL SCHOOL is controlled by the largest exam organization in the UK and in the world – Pearson Education Ltd , which offers academic ( Edexcel ) and professional ( BTEC, LCCI ) programs and testing the knowledge and skills acquired during training. Thanks to its impeccable reputation earned over the years, Pearson is a leader in the global education market, recognized as one of the leading universities and employers.  Each year, more than 1 million students around the world choose BTEC's British education programs . Now it is possible to get this prestigious diploma in Latvia by enrolling in HOTEL SCHOOL!
---
Paid Internships and Jobs Worldwide in 4*-5* Hotels
An important part of studies is the practical training – each student can choose from many offers from HOTEL SCHOOL partners to gain a practical experience in Latvian or international hotels of leading brands in Italy, Germany, Spain, Greece and other countries. Students receive a scholarship of up to EUR 1000 per month during the international practical training.
Internships and practical training are crucial for every learner to gain on-the-job knowledge, which is often considered to be the most important factor for the employer. Internship placements are considered to be the essential part of the learning process here at HOTEL SCHOOL. We are determined to help our students to find internships that will suit them perfectly and will allow them to gain useful expertise within the hospitality industry and to build a successful career in future.  More information is published in the Internships section.
---
Unlimited growth opportunities
College has signed agreements with the most recognized universities in Switzerland, the UK and other countries worldwide 

that are happy to accept college graduates in the last year of their bachelor's program.

Thanks to the Progression+ program, graduates of HOTEL SCHOOL can continue their studies in leading universities worldwide. There are more than 316 universities all over the world that are ready to accept our graduates for the 3rd year of studies in the bachelor's program. More detailed information is published in the section Partners & Accreditation.
---
Excellent Study Environment 
The college has its own library, with the latest foreign specialized literature available, a computer class with the most popular hotel management computer programs, a professional kitchen with the most advanced professional kitchen appliances and a fine dining restaurant.
Ideal location at the heart of Riga – modern European city!
The college building is located in the historic center of Riga – Old Town, adjacent to the city's best hotels, many of which are offering practical training for our students.
---
Our history
Facts at a glance
Certificates & Accreditations

Established as School of Hotel Business Organisation in 2010
Vocational education programs are accredited in Latvia in 2012
International British higher education BTEC license is acquired in 2012
HOTEL SCHOOL  college is established and higher education program is licensed in 2013

46% of college students are international students
60% of students had their summer internships abroad
68% of graduates are working in hospitality industry
41% of graduates continue their education; 18% of them in the universities abroad

Pearson BTEC approved centre certificate
Latvian VET accreditation certificate
HOTEL SCHOOL college license
 Accredited Hospitality Management higher education program